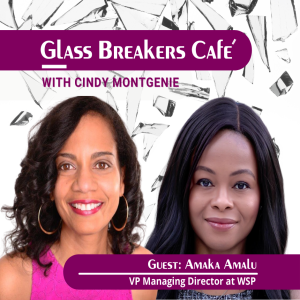 Tuesday Aug 10, 2021
Glass Breakers Café with Cindy featuring Amaka Amalu, Managing Director at WSP and Founder of Tech Girl Power
Amaka Amalu is a STEM for Girls Advocate on a mission to ensure more girls, especially those experiencing a tech and digital divide in Miami, are included in this fast-growing field. Initially intending to be a teacher or child psychologist, she experienced the joys of Engineering in her last year at St. Thomas Aquinas high school and altered her career path. Fusing her love of Engineering and mentoring young girls, she founded Tech Girl Power in 2016.
Amaka's honors include being awarded the 2020 Emerging Philanthropist Award from Philanthropy Miami and The Miami Foundation, being recognized as one of Brickell Magazine's Top 20 Under 40 Professionals in South Florida, and recognition by The Miami Herald for her philanthropic work
In this week episode,  Amaka shares with us her wisdom and insights on:
Leading as a proud invert
Finding your voice in a male dominated industry
Strategic career moves to access great opportunities
Trends that will transform the engineering field
Investing in the future of girls from low income families to build a more diverse pipeline in STEM
The super power she wishes she could have and so much more
 Enjoy!
Comments (0)
To leave or reply to comments, please download free Podbean or